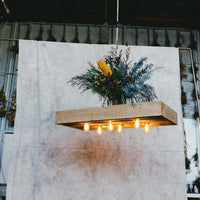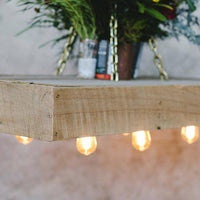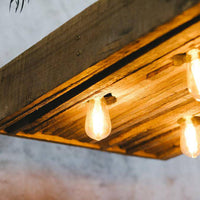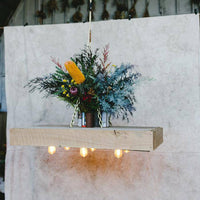 FLORALIERRE - THE HIGH BOY
Description
The Floralier.
Well, this guy has had my head spinning for the better part of the year. It's a mixed media piece that encompasses all elements that I've been exploring. 
Hang it high and experience the warm light of six, sixty watt LED Edison bulbs also note the detail of the fine trim underside. Hang it low and interact with it's textures, the old spray paint cans that paradoxically house a wild array of robust plant material. Note it's brass fixings and the smooth soft touch of a wood so warn.
The Floralier hangs steady from a raw rope that's back platted and sealed with a wax twine tie. The rope and its shadowed electrical cable pass through a reclaimed pully and down to an electric winch mounted to your wall.
This piece is custom to the buyer. Figures will only be discussed once the site has been visited and the environment considered. (A custom subscription applies to this item.)